Smart Dent
A revolution in digital dentistry
---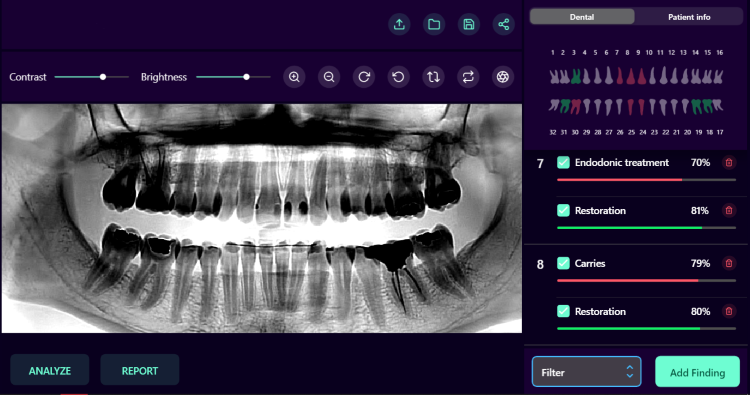 Why is
Smart Dent

the right solution for you?
The Smart Dent solution has a proven track record of servicing clients at all levels - from private clinics to large university-run clinics.
We are a highly experienced team of computer professionals and dental surgeons who have weaved their expertise in developing a customized proprietary AI based solution for the dental professionals. This unique platform has been designed by dentists for their fraternity.
The solution performs all the ancillary activities that includes analysis of the diagnosis and generation of reports, in turn - enabling the dentists to give undivided attention to the patients and focus on their treatment while the solution does the rest making the whole process optimal.
---
Identifying the Gap

2017

Humers, a company that provided multiple solutions to its clients through its global suppliers - Agfa healthcare, Acteon, Cefla and Belmont, identified a significant gap within the dental service process. It was the Lack of automation with regard to diagnosis of dental images and report generation, an acute concern for large clinics with heavy patient loads.

Origination of Smart Dent

2018

We acknowledged the gap and in response developed a customized AI based solution – Smart Dent. The solution is an integration of AI with our expertise in digital dental imaging, it addresses the lack of availability of intelligent diagnostic tools for dentists and helps automate the dental service process.

Securing Seed Investment

2019

Humer's then invested the seed money in Smart Dent, subsequently the first version of the solution was designed and developed. Demo inventories were then rolled out to key opinion leaders and reference doctors in Iran for their critical feedback.

Raising Capital Investment

2020

Finally, Fair Medical Group, a sought-after investor in emerging medical equipment systems domain chose to invest in Smart Dent.